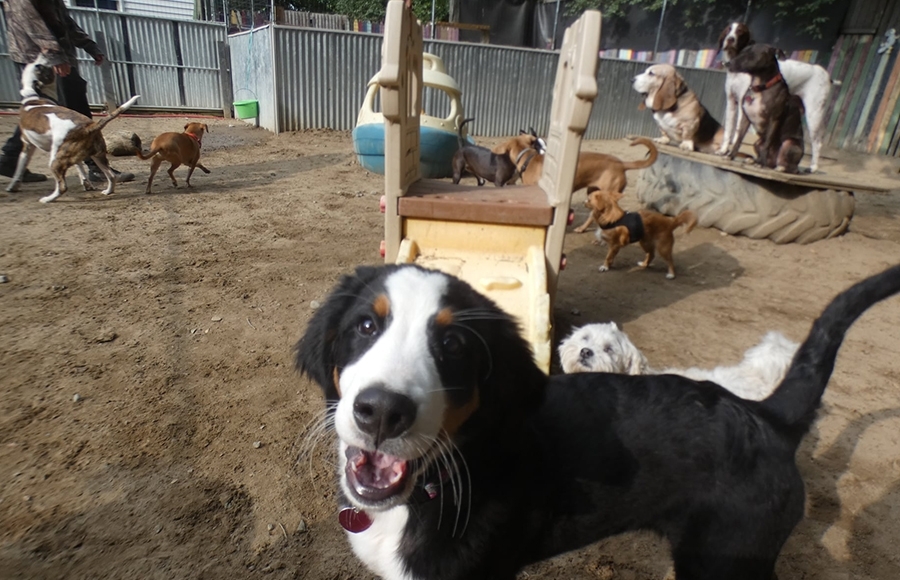 A Day in the Life of Sleepydog
Our goal is to send you home with a truly sleepy and happy dog. However, we allow your dog to set his or her own pace –because no one wants to pick up an OVER-tired or excited pup at the end of a long day at work.
Arriving dogs are ushered to a kennel for the first 10-20 minutes of their stay. This allows the dog an opportunity to dissipate some of their excitement about meeting up with their friends. Once they are calm, they are released into the playroom and ushered to a yard based on their attributes, as well as the attributes of the other dogs in attendance. These attributes include size; play style, and personal preferences.
We spend as much of our time outside as possible. On perfectly mild days, the doors are left open for dogs to wander between the yards and the playroom. On very cold, wet, or hot days, excursions outside are frequent but brief, with retreats to our climate-controlled playroom. Dogs have access to fresh water both inside and outside, as well as pools and sprinklers. On very wet days, dogs can get pretty muddy- we like to think that a dirty dog is a happy dog! We have a rinse off station and blankets for the ride home.
Throughout the day, dogs cycle between play and rest based on their personal needs. On occasion, SDK staff will mandate a rest period for dogs that are over-excited, appear tired, or otherwise indicate they need some down time. Most of their energy is expended in the AM. We begin to transition dogs from the playroom to the kennel room 30-40 minutes before their anticipated departure, allowing them time to decompress.
PDF